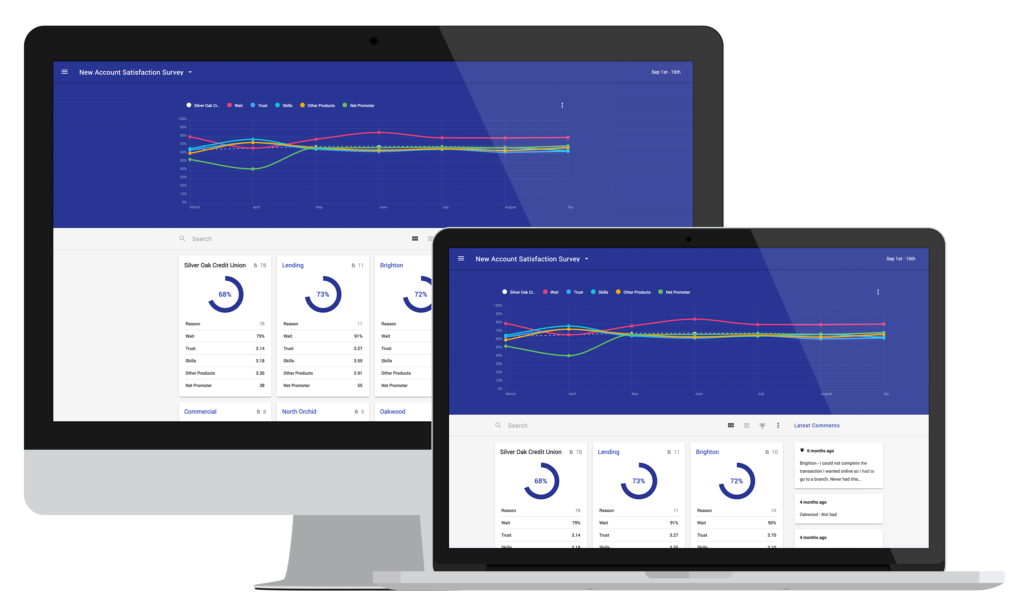 Credit Union Member Survey Ideas
Financial institutions don't just deal with money—they also deal in the social currencies of trust and loyalty. People turn to their financial services provider to safeguard their money, borrow, get investing advice, and share their goals for the future. Credit union surveys keep a finger on the pulse of your member's experiences to ensure that you provide the best services possible.
Happy members are less likely to turn to another financial institution for services and are more likely to refer others to your credit union. Satisfied members fuel credit union growth and refer new members. So, how do you keep your members happy?
So Many Services, So Little Feedback
Members use credit union services constantly throughout their days. They swipe debit and credit cards, withdraw or deposit at ATMs, call their call centers, manage their accounts online, and visit their nearest branch to discuss CD rates.
Because people are judgmental, they're likely to form an opinion about the services they use. For example, members may love the perks of their new credit card. On the other hand, they may hate the wait times at their local branch.
Keeping track of members' experiences through these repeated transactions can help credit unions see where their services are appreciated and where they're falling short. Credit unions can survey their members' experience across any number of these transactions with a simple transaction survey.
A more holistic view of a member's relationship to their credit union comprises the member's overall view of their credit union. This view may be strongly influenced by their appreciation of available member services, along with other difficult-to-measure considerations. The strength of a member's relationship with their credit union can be measured with a relationship survey.
Where Credit Union Surveys Fit into Member Satisfaction
As James Randi would be happy to point out, there are no real mind-readers in the world. The best tools credit unions have to understand how and what their members think is to ask them.
When you want to know what your members think about your services, you should send out a credit union survey. You'll want a survey platform that can ask multiple types of questions: relationship surveys, transaction surveys, and open-ended questions all paint a clearer picture.
Credit Union Member Survey Questions
How likely are you to refer Our Credit Union to a friend?

Measured on a scale of 0-10, this classic relationship survey question will give you a Net Promoter Score result.

Why did you join Our Credit Union?

It could be a referral, or perhaps it was a promotion or an advertisement. Either way, finding out what brought your members in can help you direct future marketing efforts toward your more successful campaigns.

How often do you use our services?

Loyalty-based questions like the above provide insight to why your members stay loyal. You can emphasize these characteristics to current members and promote them to prospective members.

How satisfied were you with Our Credit Union's online bill pay feature?

Credit unions benefit from transaction-based survey questions like the above by seeing which of their services are performing well. You can ask transaction survey questions about anything, from ATM availability to teller friendliness. This type of credit union survey question will give an NPS result.

Is there anything else you'd like to tell us?

Open-ended questions can open the floodgates of information regarding member perception of your credit union. Your Products, services, locations, and more are all fair game.

Follow up.

Some surveys allow you to ask members if they'd like someone to follow up after their survey is complete. LiveSurvey can automatically send a follow-up email to any extreme answers (i.e. 1–3 out of 10) to gain context, insight, or to ensure excellent member services in the future.

Credit Union Survey Results Over Time
One of the best things about measuring member experience with surveys is that you can track your survey results over time. Tools like LiveSurvey know within minutes about any member transaction and can immediately send a survey to ask questions related to that transaction.
That immediate feedback, coupled with historic transaction survey answers, work in concert with long-term relationship surveys. Together, your credit union member survey data can show where you excel and where you should focus your efforts to spur more growth and increase satisfaction.
By keeping in touch with your members' wants and needs, you can strengthen the trust and loyalty that your members give you. Credit union member surveys are the best tool available to guide your efforts to provide better financial services to your members.
If you'd like to learn more about how credit union surveys can help improve your members' experiences, follow the links below. If you'd like to see the results of a fun survey we made recently with LiveSurvey's platform, click here.
Survey Questions to Avoid for Better Credit Union Member Insight