How Mid Oregon Credit Union Increased Member Satisfaction
Mid Oregon Credit Union is a $600m institution serving Bend and the surrounding areas of Central Oregon. They tracked basic contact center statistics to measure performance:
Total calls
Average speed of answer (ASA)
Maximum wait time
Average talk time
Abandonment rate
However, although their abandonment rates gave some indication of member satisfaction, they wanted more information. Specifically, they wanted to learn the member pain tolerance for hold times.
So, they began using LiveSurvey to track member satisfaction alongside contact center statistics. Read on to learn what they found and how survey data contributed to Mid Oregon Credit Union's call center and data strategy.
Analyzing Contact Center Survey Data
Mid Oregon Credit Union collects contact center data weekly.
Most of their data from 2021 shows average wait times between 8–12 minutes, with outliers at the 5- and 13-minute marks.
Call abandonment rates typically stayed between 15–22%, with outliers just under 10% and 30%.
However, Mid Oregon Credit Union made a push to decrease ASA times and call abandonment rates toward the end of 2021. After several weeks of improved performance, they decided to add more data to their tracked stats.
They used LiveSurvey to assess member satisfaction across members who called their contact center. They tracked NPS and asked "Were you served in a timely manner?" The additional survey data allowed them to adjust their contact center resources to fit their overarching member service strategy (which includes self-service channels).
Kevin Cole, President of Mid Oregon Credit Union, noted that their NPS drops when their ASA rises above 10 minutes. Conversely, their NPS spikes when their ASA sits around 2 minutes. However, due to the cost of maintaining a 2-minute ASA, they're using that information to make strategic resource decisions while maximizing member satisfaction.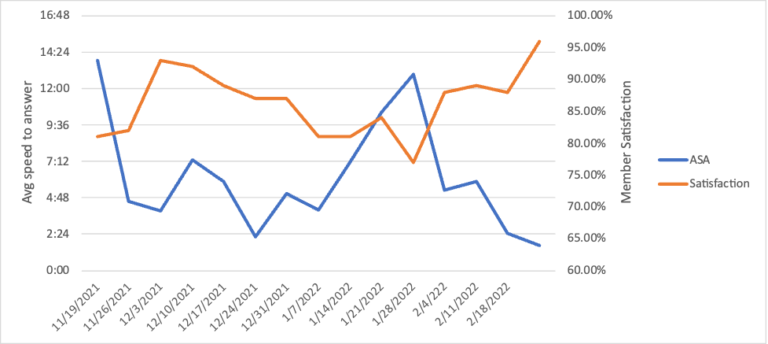 The chart shows the relationship between ASA and member satisfaction. The survey data was critical to interpreting the other tracked contact center data. The abandonment rate statistic simply doesn't capture member sentiment as clearly or succinctly.
How Survey Data Fuels Mid Oregon Credit Union's Strategy
Mid Oregon Credit Union is making a push to incorporate more data in their strategy. Optimizing their contact center was a clear target, especially considering their self-service channels are more cost-effective.
"As an organization, we are working on being more data-driven," said Cole. "This was really the first success story of linking metrics with member survey results. LiveSurvey was really a key part of this."
Cole added, "We ultimately want to integrate [survey data] into our data warehouse so we can test satisfaction or NPS versus transaction or relationship behavior with us."
Additional Resources
Ultimately, Kevin Cole and Mid Oregon Credit Union will be able to use member satisfaction and survey data to increase adoption of self-service channels without risking their member relationships (i.e. attrition).
To learn more about NPS scores, download our full guide here: https://livecusurvey.com/ultimate-nps-guide/
Or get other strategic survey ideas for your credit union here: https://livecusurvey.com/7-strategic-survey-ideas-e-book/