Okay, bear with me on this. I'm going to make up a fake survey for this blog to illustrate how to plan for the future with credit union member surveys. It's going to get silly and, I hope, informative as well.
Before we go too far though, have you read our recent blog about how to use survey results in board strategy sessions? I won't hold it against you if you don't—it'll be waiting there for when you're ready.
Now, to the matter at hand: using survey results to make future decisions.
How Much Information Can a Survey Actually Get?
In an obnoxiously semantic way, I would estimate the limit to the knowledge that can be gained from a survey to be infinite. There are an infinite number of questions that any credit union can ask, and in that sense, there are an infinite number of answers and information to be gleaned.
But that's not what we're after here. This is about practicality. So, here's your practical answer: the limit is decided by your imagination, your needs, and your members' willingness to respond.
If you want to ask your members about their experience in their local branch, you might ask a few questions related to their latest visit. If you want to ask your members about the ease of your loan process, then you should inquire as much of your members who recently applied for loans.
Essentially, there are many areas of inquiry to ask about, and there are even more members to survey. You can get as much information from your surveys as you ask, so long as you don't bother your members and follow surveying best practices.
Example Survey
Here's a survey I've always wanted to give. Unfortunately, you can't take this one. If we let this go live, then we'd run the risk of having to change the blog periodically to reflect the latest answers. Instead, you'll have to let your imagination do the work.
Now, depending on your answers to the survey, I could learn quite a few things. Most notably, I could quickly assess which kinds of surveys and survey questions to which you're most likely to respond. I could also learn how to improve the survey.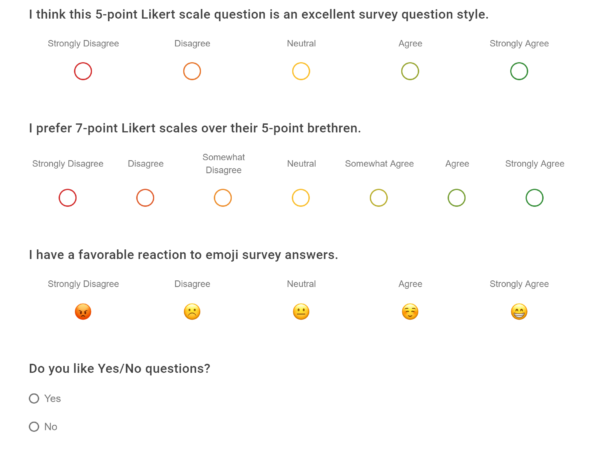 However, for the purposes of this blog post, you can clearly see how I could use the resultant survey data to craft better surveys for my audience in the future. If people don't like graded questions, then I would leave them out. If people love yes/no questions, I could phrase my queries such that binary answers were more common and effective.
If you can see how a four-question survey survey can help plan future surveys, then just imagine how a real credit union survey could help credit unions plan for their future.
Ask the Right Questions
The real trick to getting useful member feedback to aid in planning for the future is asking the right questions. While LiveSurvey includes  , it's more likely that the best question you ask are the ones that you want to know the answers to.
If a survey informs you that your members don't like your current drive through experience, for example, you might leave that part out when you build your next branch. Or, if your wait times are too long, then you can hire another teller or retrain as necessary to increase their efficiency.
Additional Resources
Of course, surveys don't solve problems—they can only show you which problems you need to solve. If you're having trouble knowing where to start, then check out our blog! We keep it updated weekly with credit union survey news and insights.
If you feel like doing a little more reading, follow the links below! We wrote them to help you with your credit union survey strategy, but you can also print them and use them as informative wallpaper, too.
Changes Credit Unions Have Made After a Member Survey
How You Can Give Your Credit Union Members a Voice (Hint: It's a Survey)